It may seem simple, but it is not: every time you keep a vehicle stationary, that vehicle is a cost. It is not just a matter of unavoidable expenses, but of earnings that you are avoiding.
This is why the showcase on rent4u.it was born, the rental portal dedicated to those who choose the No. 1 management software in the sector. Choose the vehicle, choose the daily price and you are immediately online. Minimum effort, maximum result.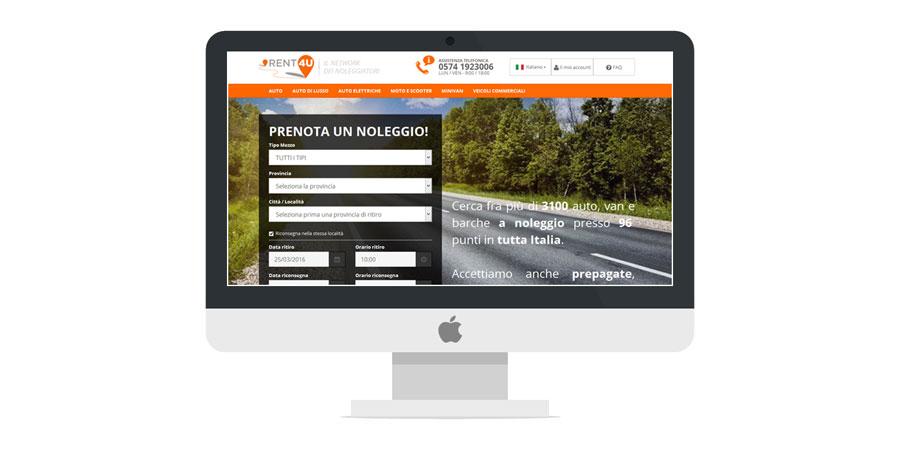 What do you have to gain?
By listing your cars, or "getting them moving" on rent4u.it, you have everything to gain because more customers are using it all the time. And once they try it, they don't look back. They get addicted to the simplicity, comfort and practicality of being able to contact the renter directly.
What do you have to lose?
Practically nothing: rent4u.it is completely free for customers using GestiRent, while those who have not chosen the No. 1 car rental management system cannot access it, even by paying for it.
Rent4u.it made by World Net
This rental portal is developed by the makers of GestiRent and it's perfectly integrated with the management software. When you use it, you quickly realise that there is more than one page dedicated to rent4u.it
The fact that World Net created it means that it's a direct expression of the "web oriented" approach, and it's therefore accessible anywhere there is an internet connection, from any device, free of hardware constraints, running in the cloud and designed for teamwork, secure and 100% reliable.
What more could you ask for? Honestly, at World Net we don't have the answer to that.
Did we intrigue you? Visit the Rent4U website!